In the battle of opposites in the fourth week of July 2022, trading on the Lusaka Securities Exchange. Yet another week of the bond market completely dominating the equities side as it recorded a 100% score. In comparison to this time last year, we see the complete opposite as it was the equities market that recorded a 100% score, there is more bond trading being recorded. In regards to the equities market Copperbelt Energy Corporation Plc recorded the highest turnover during the week.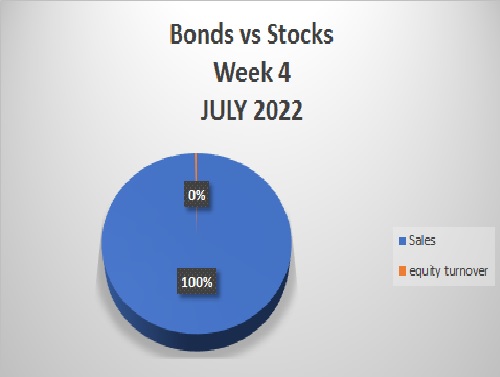 Equity Market
In the week ended 22nd July 2022, a total of 178,858 shares were transacted in 394 trades, yielding a market turnover of K546,377. Trading activity was recorded in AFRICA EXPLOSIVES CORPORATION LIMITED, AIRTEL, BRITISH AMERICAN TOBACCO ZAMBIA, COPPERBELT ENERGY CORPORATION, CHILANGA CEMENT, MADISON FINANCIAL SERVICES, NATIONAL BREWERIES, PAMDOZI, PUMA, STANDARD CHARTERED ZAMBIA, ZAMBIAN BREWERIES, ZAMBIA CONSOLIDATED COPPER MINES, ZAMBEEF, ZANACO, ZAMBIA SUGAR and CEC AFRICA on the quoted tier. The LuSE All Share Index (LASI) closed at 6,888.26 points. The market closed on a capitalization of K70,915,053,454 including Shoprite Holdings and K36,132,368,014 excluding Shoprite Holdings.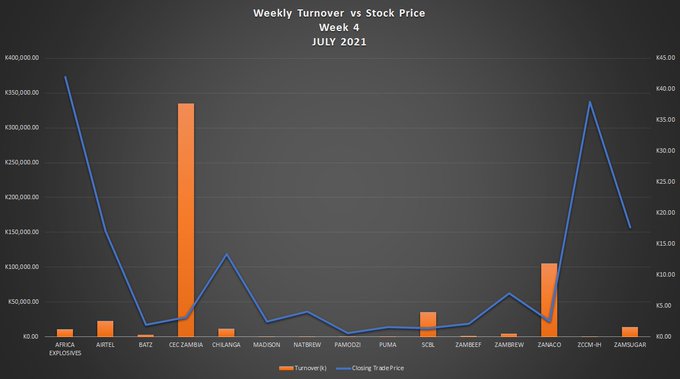 Bond Market
Bonds of total face value of K196,737,000 were transacted in 28 trades, resulting in a market value sales of K136,534,470.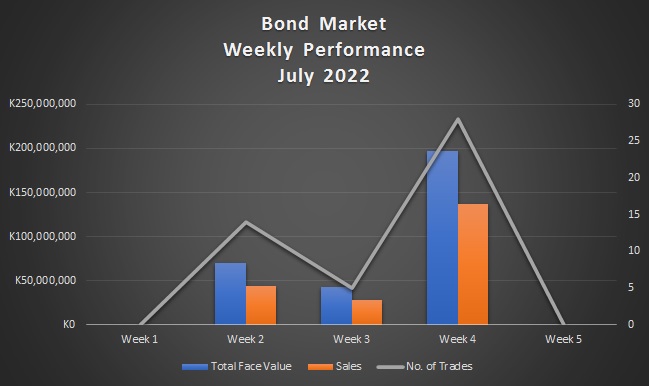 Week four was the best performing week thus far.
IMPORTANT ANNOUNCEMENTS 
The Board wishes to inform the shareholders and the market that ZCCM Investments Holdings Plc
("ZCCM-IH" or "the Company"), has agreed to provide Corporate Guarantees to Atlas Mara Bank for
the amount of USD 15 million.