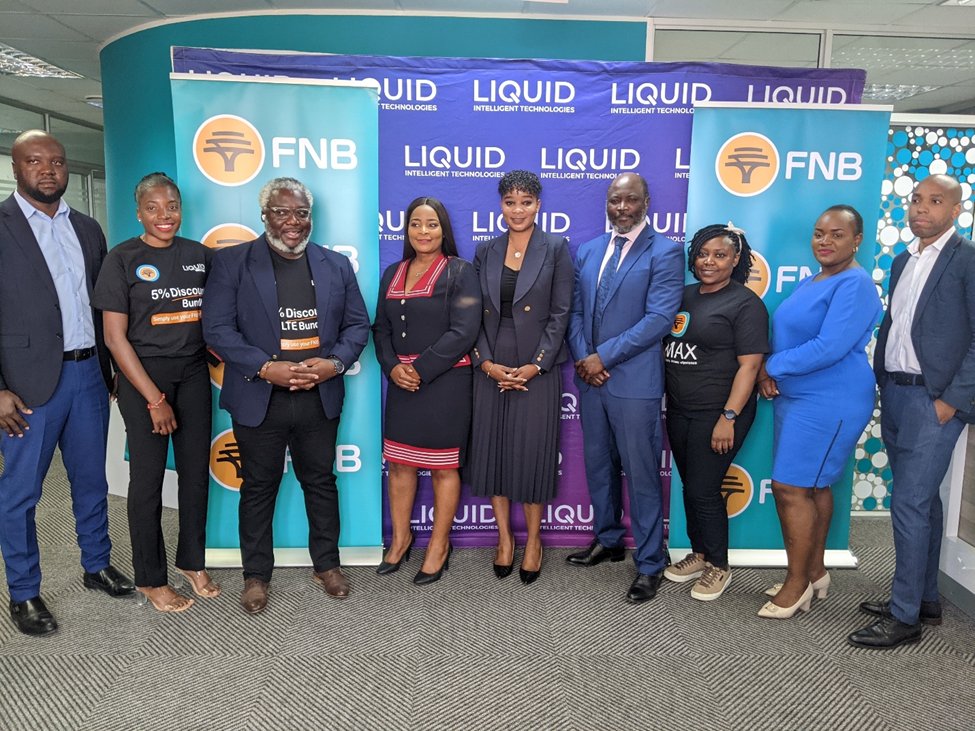 During a media briefing held at First National Bank (FNB), held on 07th September, 2023, FNB and Liquid Intelligent Technologies announced a strategic partnership aimed at offering affordable and reliable data services to customers. Through this partnership, customers will automatically enjoy 5% discount when purchasing LTE data bundles on the Liquid Home Online portal using FNB debit cards.
Speaking during the partnership announcement, FNB Zambia Acting Head- Retail Banking, Chanda Busuma said, "With the increase in mobile and internet penetration in Zambia, we are pleased to partner with like-minded organisations like Liquid Intelligent Technologies that are driving affordable access to data. Which will translate into increased use of digital banking and online platforms with ease. As an innovative digital and life-style services provider, our focus at FNB is to offer helpful, easy, and safe platforms for customers to transact on".
Mr. Busuma added that the partnership amplifies FNB Zambia's strategic intent to offer customers more value and convenience through their Alliance Partnership business model. The model is premised on collaboration to offer tangible value through savings and discounts on various products and services when customers utilize their secure payment platforms. To this reimaging help for their customers and offering a much-needed service".
Liquid Intelligent Technologies Head – Retail, Tendai Chasimpha said, "in May 2023, we at Liquid made the move to scale up the use of Digital Financial Services in line with the Bank of Zambia's 'Go Cashless 'Campaign, a collaborative framework meant to promote a coordinated approach. In support of this initiative, Liquid decided to reaffirm its position in the market for being a provider of technological solutions which means touching every area of our business including payment platforms".
In closing Mrs. Chasimpha added that, it was an exciting partnership between two giants that are driving digital tools. "Our mutual customers will benefit from a deliberate focus to offer affordable and convenient LTE bundles. We are proud to report that all Liquid Home touch points exclusively use cashless payment methods, and we encourage our customers to use digital platforms such as My Liquid App or web portal. We are after all, Africa's Digital Future". FNB Zambia and Liquid Intelligent Technologies are committed to driving digitalization and convenience in the country.