LUSAKA, Zambia – 21 August 2023 – The Zambia Civil Society Organization (CSO), Centre for Trade Policy Development, reflects on the performance of the economy within first half year. The finding shed light on the challenges and opportunities that the economy faces and how to improve the economic outlook of the country.
Speaking during the press briefing held at CTPD offices in Lusaka, CTPD Executive Director-Isaac Mwaipopo stated that, the Zambia economy has encountered some challenges, grappling with inflationary pressures and exchange rate fluctuations. The Growth trajectory has been hampered by downturns in key sectors like; Agriculture and Mining. Moreover, the Fiscal situation has been a cause for concern as the deficit places additional strain on the public finances and raises questions about sustainability.
"Zambia reached an agreement to have $6.3 Billion US Dollars of the bilateral external debt restructured under the G20 common framework. This year, the stock of total public debt, has remained significantly high at $25.5 Billion US Dollars as at the end of quarter one warranting careful consideration of debt sustainability. The obligation tied to servicing our debt still remain stretching budgetary allocations, diverting resource away from crucial services and development initiatives, diverting resources away from crucial services and development initiatives. The need to effectively manage and restructure bilateral debt portfolio is of paramount importance". Mr. Mwaipopo said.
In a long run, he mentioned that, agriculture is a key part of the Zambian economy, confronts the challenges posed by climate change, leading to reduced crop yields and food security concerns. The mining sector, another vital contributor, experienced a decline in copper production and associated poor revenue performance, impacting the foreign exchange earnings. The energy sector's volatility, characterised by fluctuating fuel price, has far- reaching implications on the inflation rate and overall economic stability.
According to the statement, Mr Mwaipopo said, fiscal policies have been actively engaged in efforts to curtail the deficit through measures like enhancing revenue streams. However, challenges in tax administration and evasion have posed hurdles in achieving desired revenue targets. Domestic value added tax and income taxes particularly have suffered. The fiscal gap remains pronounced, underscoring the importance of prudent fiscal management moving forward.
With regards to monetary policy and inflation, the central bank has enacted policies to combat inflation, employing policy rate adjustments and liquidity management strategies. Yet, despite these measures, inflation remains elevated due to a combination of internal and external factors, impacting citizens' purchasing power.
"In the first half of the year 2023, the government planned to spend a total of ZMW77 billion. As of June 2023, the government had managed to release ZMW71.1 billion, equivalent to 92 percent of the target. Investment in crucial social sectors have witnessed improvement, yet they continue to fail short the targets set. This shortfall impacts poverty alleviation, education and the overall standard of living for citizens. Challenges in disbursing funds for community development initiatives have hindered essential infrastructure projects". Mr. Mwaipopo added.
Meanwhile, the health care system has made commendable progress, issues such as medicine shortages underscore the need for sustained investment.
The set of recommendations that provide key innervations to navigate challenges and seize opportunities are as follows.
Strengthening tax administration and enforcement to bolster revenue collection and overcome the poor performance of domestic VAT.
Implement prudent expenditure reforms to mitigate public spending and reduce fiscal deficits.
Government must establish and actualize a sinking fund from which resources for debt repayment will be drawn.
Evaluate and enhance the economic viability of investment projects funded by debt. These includes; the road sector projects and investment in feeder roads.
Prioritize transparent management and restructuring of public debt, to ensure its sustainability.
Uphold a prudent monetary policy to mitigate inflationary pressures and stabilize the currency.
Invest in climate-resilient agricultural practices to ensure food security for the country
Support small-scale farmers in adopting Agro-processing and value addition techniques to reduce post-harvest losses and increase income through higher-value products.
Addressing inefficiencies and ensuring timely distribution of inputs to small-scale farmers.
Foster engagement with mining investors to address challenges and drive sustainable growth.
Facilitate the formalisation of artisanal and small-scale miners to increase their contribution to overall production and ensure better safety and environment practices.
Develop strategies to stabilize energy prices and secure consistent energy supply.
Allocate adequate resources to social sectors to meet development targets and alleviate poverty.
Address administrative challenges in community development fund implementation to expedite vital infrastructure projects for the community.
Bolster health care infrastructure, medicine supply chains, and workforce capacity for enhanced public health services.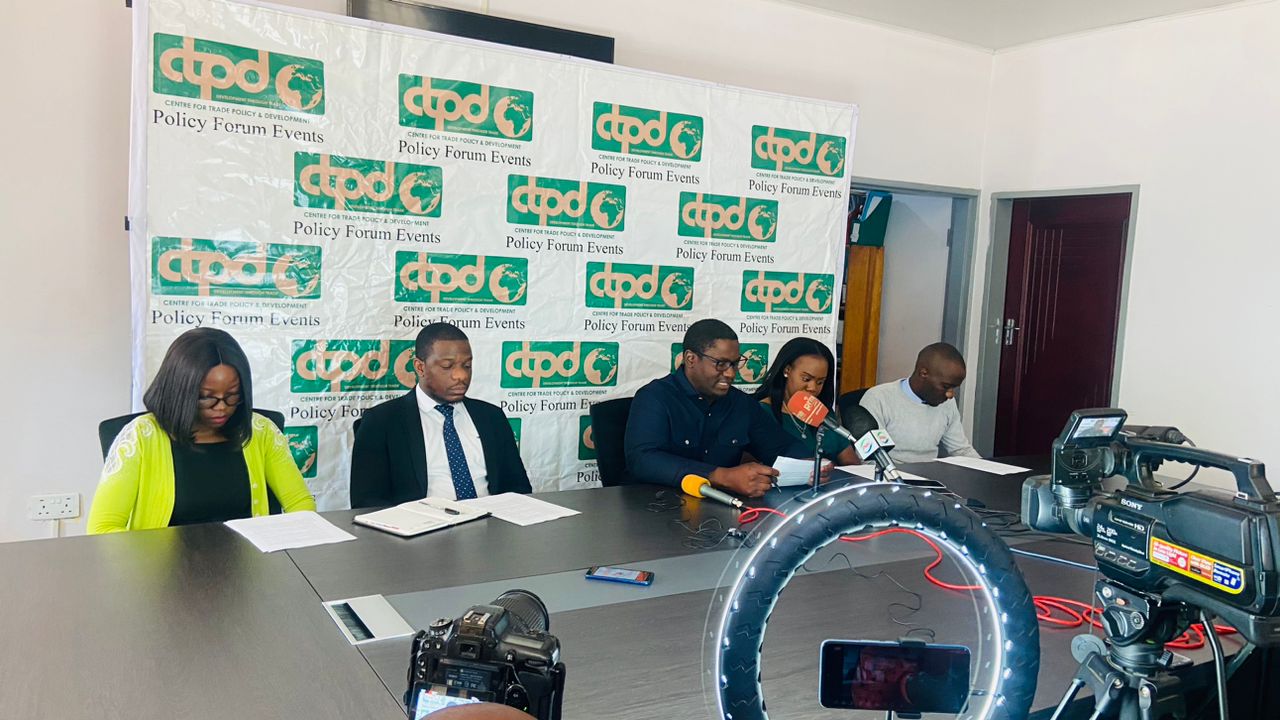 "These findings and recommendations serve as the foundation upon which the Zambian economy can resuscitate. It is important that we draw strength from these insights, as we forge a path towards a better and stronger economy built on resilient and sustainable growth". Mr. Mwaipopo concluded.