Two weeks into the month of August 2023, trading on the Lusaka Securities Exchange we take a look at how the Capital Market Performed during the week. We see yet again another week of the bond market eclipsing the equities market as it recorded a 100% score. Around this time last year we see that the bond market recorded a 91% score to 1% on the equities, this results in this years equity performance decreasing by 1%. Regarding the equity market Copperbelt Energy Corporation recorded the highest turnover during the week.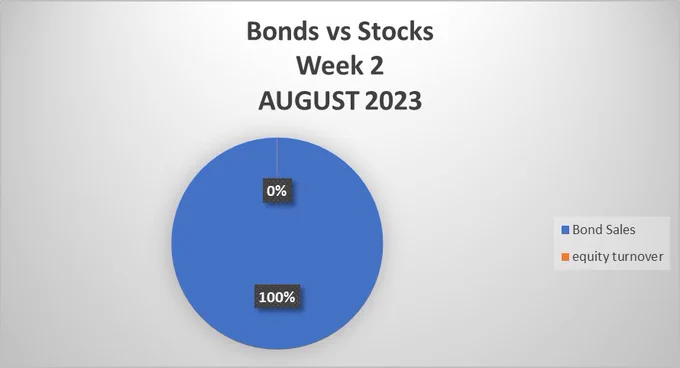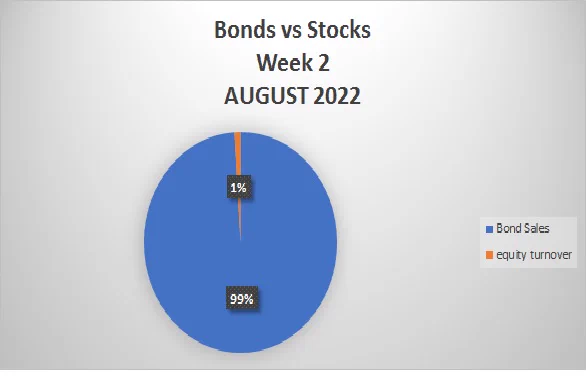 Equity Market
In the week ended 11th August 2023, a total of 97,387 shares were transacted in 261 trades, yielding a market turnover of K415,008.92. Trading activity was recorded AECI MINING, AIRTEL NETWORKS, COPPERBELT ENERGY CORPORATION ZAMBIA, CHILANGA CEMENT, MADISON FINANCIAL SERVICES, PUMA ENERGIES, STANDARD CHARTERED BANK LIMITED, SHOPRITE HOLDINGS, ZAMBEEF, ZANACO, ZCCM INVESTMENT HOLDINGS and ZAMBIA SUGAG. The LuSE All Share Index (LASI) closed at 8,372.81 points. The market closed on a capitalization of K78,023,387,858.09 including Shoprite Holdings and K43,240,702,418.09 excluding Shoprite Holdings.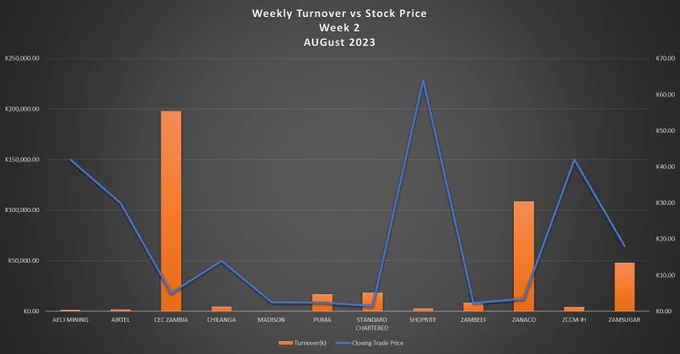 Bond Market
Bonds of total face value of K 1,481,000,000 were transacted in 37 trades, resulting in a market value of K944,610,630.