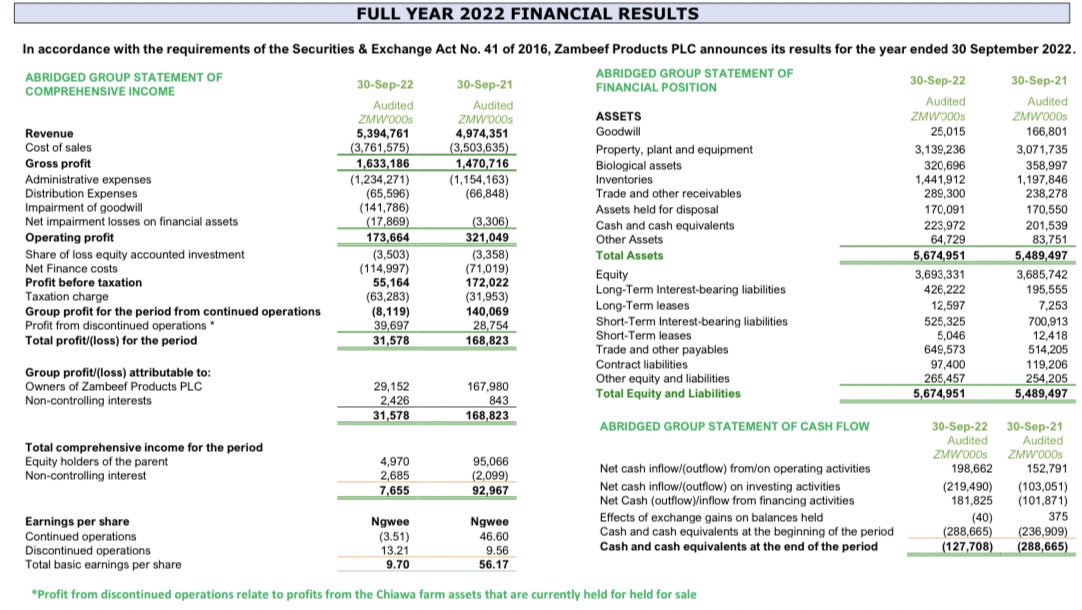 Performance Overview
The financial year ended 30 September 2022 saw macroeconomic fundamentals stabilise. The exchange rate remained largely stable and the inflation rate steadily reduced. However, constrained consumer spending negatively impacted volume growth in our Retail and Cold Chain Food Products, particularly in the first half of the financial year. The period saw an escalation in key input prices such as fuel, chemicals, and fertiliser which impacted margins. In addition, the Group saw outbreaks of contagious bovine pleuropneumonia (CBPP) and African swine fever (ASF), which respectively impacted our beef and pork divisions.
Despite these headwinds, performance in Cropping, Milling, and Stockfeed enabled the Group to achieve normalised EBITDA* in line with market expectations owing to high grain prices, market share gains, and cost containment.
Despite the myriad of country and global deterrents directly affecting the business, through resilient financial and operational performance, Zambeef established itself, once again, as a dependable asset for our shareholders.
The group remains committed to its strategic imperatives of focussing on core business and Divest from non-core assets to free up resources. As such, the Group exited pig and layer farming during the financial year.
Outlook
We anticipate macroeconomic stability to continue, supported by improved investor sentiment leading to increased Foreign Direct Investment. The Kwacha and inflation rates are also expected to remain stable across the 2023 financial year.
Our strong brands will help us maintain customer loyalty while the vertically integrated business model positions us well to secure both supply and a market for our products. The anticipated future recovery in the economy and a strong management team have positioned us well for shareholder value maximisation
in the coming years. The group will capitalise on the positive economic outlook and invest for the future in F anticipation of improved consumer spending.
Key Financial Highlights
Revenue and gross profit increased by 8.5% and 11% respectively in Kwacha. The marginal top line growth was mainly on account of volume pressures in Retail and cold chain food Products.
The period saw a rise in input commodity prices, particularly crude oil, fertilisers and grain, escalated as a consequence of the Russia – Ukraine conflict. The resultant increase in input costs in the Cold chain business which was offset by higher grain prices in Cropping. The higher grain prices in Cropping coupled with strong margins in the Stockfeed business drove the Group's performance.
The Group delivered a profit before tax of ZMW55 million (USD3 million), representing a decline of 68% in Kwacha (61% in US dollar terms), compared to ZMW172 million (USD8 million) in the prior year. The above results posted are after the recognition of goodwill impairment amounting to ZMW141.8 million on the fair value of Zamchick Limited's asset. Adjusting for this non-cash impairment, the Group delivered a profit before tax of ZMW197 million (USD11.5 million) representing a growth of 15%.
A higher tax expense and goodwill impairment loss resulted in profit after tax being K31.5 million (2021: K168.8 million)
*Normalised EBITDA is defined as Earnings before interest, tax, depreciation, amortisation, fair value adjustments, loss from equity accounted investments, loss on disposal and net unrealised foreign exchange losses.
For further information on Company and Group Financials, please visit
www.zambeefplc.com