In the final week of May and beginning of June bond trading on the Lusaka stock exchange. We had  a combined week of trading of which the bond market held it's glory as it dominated the equities market. In regards to the equities market, Zanaco Plc recorded the highest turnover.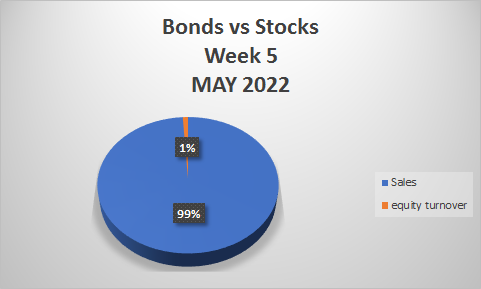 In both regards the bond market recorded a 99% score to 1% on the equities side.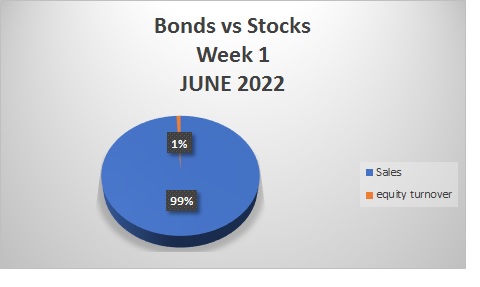 Equity Market
In the week ended 03rd June 2022, a total of 476,691 shares were transacted in 356 trades, yielding a market turnover of K1,337,336. Trading activity was recorded in AFRICA EXPLOSIVES CORPORATION LIMITED, AIRTEL, BATA, BRITISH AMERICAN TOBACCO ZAMBIA, COPPERBELT ENERGY CORPORATION, CHILANGA CEMENT, INVESTRUST, NATIONAL BREWERIES, PAMDOZI, PUMA, REAL ESTATE INVESTMENT ZAMBIA, STANDARD CHARTERED ZAMBIA, ZAMBIAN BREWERIES, ZAMBIA CONSOLIDATED COPPER MINES, ZAMBEEF, ZANACO, ZAMBIA SUGAR and CEC AFRIA on the quoted tier. The LuSE All Share Index (LASI) closed at 6,802.76 points. The market closed on a capitalization of K70,542,889,811 including Shoprite Holdings and K35,760,204,371 excluding Shoprite Holdings.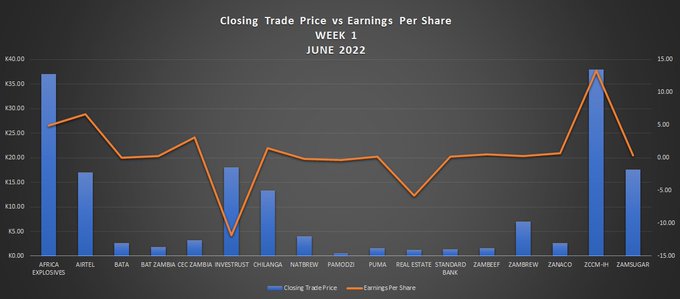 Bond Market
Bonds of total face value of K198,015,000 were transacted in 17 trades, resulting in a market value sales of K142,795,470.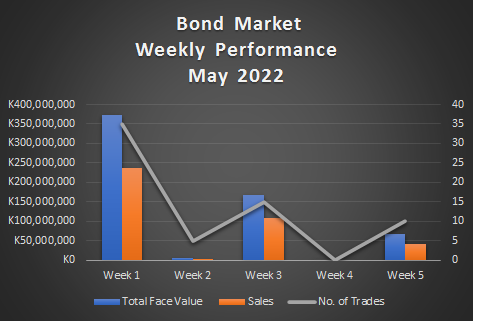 Week One of May remains the best performing week of the month.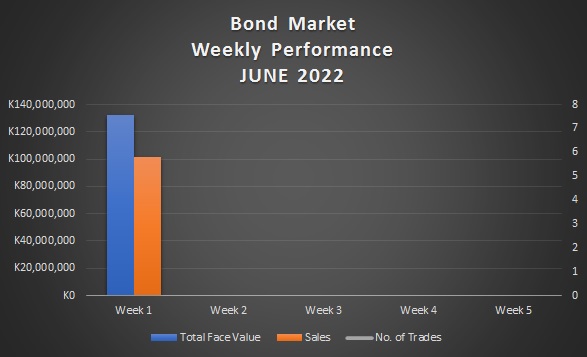 IMPORTANT ANNOUNCEMENTS
In accordance with the Lusaka Securities Exchange Listings Requirements, the Board of Directors of Zambeef Products Plc hereby advises the Shareholders of the Company
that the Total Basic Earnings per Share (EPS) for the half year financial period ended 31 March 2022 is expected to be 172% higher in Kwacha terms (228% higher in USD) than that of the corresponding half year period ended 31 March 2021. The Company stated on 27 April 2022, that for the year ending 30 September 2022, revenue (reported in USD) was expected to be 10% above then market expectations, and EBITDA, EBIT and adjusted Profit
Before Tax* were then expected to end 15% – 25% ahead of then market expectations (all reported in USD).
ZAMBIA FORESTRY AND FOREST INDUSTRIES CORPORATION PLC
At the 20th Annual General Meeting ("AGM") held virtually on the 24th of May 2022, a Final Dividend of ZMW 12million at ZMW 0.03 per share for the financial year ended 31st December 2021 was approved by the shareholders of Zambia Forestry and Forest Industries Corporation PLC ("ZAFFICO").
(Visited 7 times, 1 visits today)