–Article republished with permission 
Despite being in default on its external debt portfolio, Zambia's macroeconomic environment has improved notably in recent months. Among key macroeconomic fundamentals that have evolved favorably is the country's consumer price inflation which, although being above target of 6-8% for more than 3 year, has decelerated significantly. This positive development has come despite the partial removal of fuel subsidies that has seen pump prices scale up by an average of over 35% since last December 2021 at the time that the Russo-Ukrainian war occasioned an escalation in international crude oil prices.
The May 2022 Outturn
For the month of May 2022, annual inflation decelerated for the 10th month in a row by 130 bps to a near
3-year low of 10.2% as prices increases cooled for both food and non-food items. In particular, food
inflation slowed the most in 4 months by 180 bps to 12.3% (the lowest since August 2021) while non-food
inflation drifted into the 6-8% target zone after decelerating 70 bps to a 3-year low of 7.5%.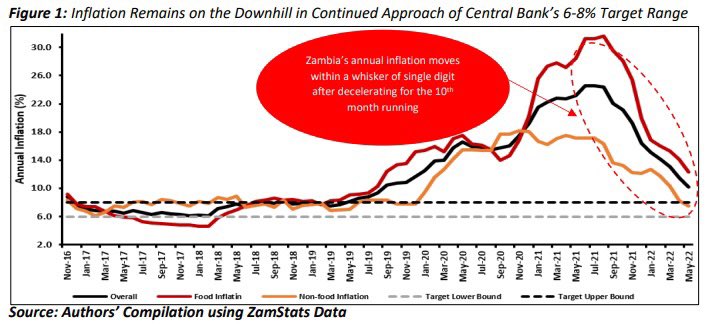 For food inflation, the deceleration came from meats (both red and white), some fish (Siavonga Kapenta
and dried bream), eggs, beans, fruits as well as veggies (see LHS of Figure 2). Meanwhile, non-food
inflation slowdowns were seen in such items as recreation/culture, clothing/footwear, beer/tobacco,
house furnishing, housing (including utilities), communication and education (see RHS of Figure 2). On the
contrary, prices rose quicker for maize grain and mealie meal (on tighter supply as harvesting of fresh produce has not meaningfully started considering that maize was planted late due to delayed rains),
Chisense and Mpulungu Kapenta, restaurant/hotel as well as health services thereby moderating the pace
at which overall inflation moderated.

Inflation Deceleration Drivers
While we are of the view that inflation continued to benefit from the numerical advantage associated
with the base effect, there are other fundamental factors that are behind the ongoing moderation in
inflationary pressure. Firstly, the prices of meat products have benefited from sustained stability in feed
costs (they had been on an upward trend for over 3 years until mid-2021 in a fashion that traced the path
of a depreciating Kwacha) as well as consistent supply of electricity (has helped to keep away costlier
alternative sources of energy).
Secondly, we have seen slowing growth in money supply with the rate averaging 6.63% on the year in Q1
2022 compared to a recent peak of 47.2% between October 2020 and March 2021. This has helped to
cool aggregate demand momentum amid sluggish private sector output growth since the turn of 2022
(actually, survey data from S&P show that output fell throughout Q1 2022 at Zambia's private sector firms
and only returned to growth in April).

Thirdly, given that Zambia's manufacturing sector significantly depends on imported inputs while retail
stores heavily import finished goods, favorable developments in the foreign exchange market have also
been helpful in seeing inflation continue on a downwards trend. In the period March- May 2022, available
data shows that the Zambian Kwacha has consistently been on bullish a trend appreciating 5.8% to a
monthly average of ZMW 17.05/$ in May from ZMW 18.10/$ in February 2022. The performance of the
Kwacha in the last 3 three months has been propped up by enhanced supply support from the central
bank as well as improved sentiment positive (especially beginning second half of April 2022) on news
that Zambia is making progress in the efforts to restructure its external debt portfolio. Regarding the former,
the capacity by the central bank to intervene in the foreign exchange market is currently being buoyed by
encouraging levels of dollar taxes from the mining sector. In fact, we are of the view that mining taxes
have enabled the central bank to keep international reserves close to $ 3 billion despite the Ministry of
Finance indicating that government has utilized some of the SDRs received last August to finance the 2022
budget.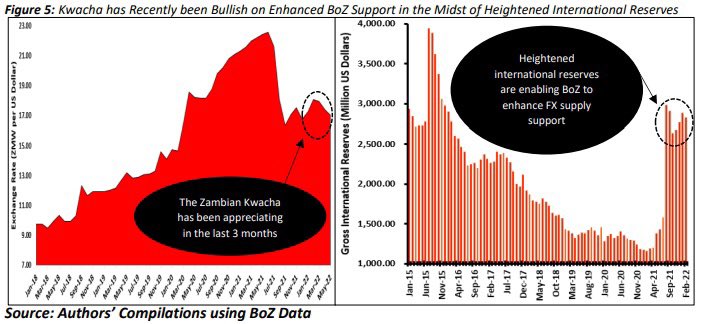 Fourthly, trading corridors remain characterized by pockets of promotional pricing especially retailers
dealing in non-essential and durable commodities in an effort to boost their sales. Indirectly, this reveals
subdued consumer demand for such items at the times that households are potentially realigning their
consumer baskets in the face of elevated fuel pump prices.
Is the Current Moderation in Inflationary Pressure Sustainable?
Our latest inflation forecasts are suggesting a continuation in inflation deceleration with single digit
inflation at end of H1 2022 before subsiding further to touch the upper bound of the 6-8% target range
come the first quarter of 2023. There are a number of factors that are informing the foregoing outlook with the first being the protraction in the base effect (we see this numerical advantage extending up to
August 2022).
Secondly, we expect the fresh agricultural sector produce to improve the supply of foodstuffs on the
market given the increase in production for crops such as soybean, wheat, groundnuts and mixed beans
during the 2021/22 farming season. At the same time, and despite the staple crop (maize) suffering a
more than 25% reduction to 2.7 million MT in the immediate past season, Zambia currently has carryover
stock in excess of 1.5 million MT. With this, the country's total available stock comes to 4.2 million MT
while domestic consumption is estimated to be around 3 million MT thereby suggesting that the country
is going to be sufficiently supplied of maize.
Thirdly, we foresee a stronger Kwacha (our projections are pointing to an average of ZMW 15.6/$ in H2
2022) continuing to cool input prices while keeping cost outlays on imported consumables muted thus
anchoring prices domestically.
Further, we have seen crude oil prices on the international market trading stable despite continued
fighting between Russia and Ukraine, a development that suggests that we are possibly not likely to see
an upward adjustment in the domestic fuel pump prices in the near-term considering that the Kwacha
(one of the two key variables that go into pricing of fuel in Zambia) is also expected to post gains in H2
2022. Relatedly, there are increasing indications that government is not likely to implement the planned
hike in electricity tariffs any time soon with the Minister of Energy recently pointing out that the cost of
service study which is supposed to inform this decision is still being reviewed by government and that the
final document may only be available in H2 2022.
Notwithstanding the above positive outlook as regards price developments in Zambia, upside risks remain.
Key ones include a resurgence in crude oil price on the international market, an unexpected depreciation
of the Kwacha as well as continued recovery in consumer spending.
… Why Does Inflation Deceleration Matter?
As earlier indicated, Zambia's inflation has been above the desirable policy range for over 3 years and
seeing it decelerate towards the preferred levels comes with important macro and microeconomic
implications. For starters, inflation is an important variable that influences the pricing of credit offered by
commercial banks. As such, decelerating inflation implies that we are likely to see that cost of credit falling
thereby encouraging borrowing especially among economic agents that were previously priced out (both
firms and households). Already, and coinciding with moderating inflationary pressure, we have seen the
average lending rate charged by commercial banks decline for 4 straight months to a 9-month low of
25.23% in April from 25.9% in December 2021.
Besides, current forecasts and the continued deceleration in inflation have been instrumental in
influencing the central bank's decision of keeping the monetary policy rate unchanged during the past
three MPC meetings in a manner that is contrasting ongoing developments in advanced economies. The
accommodative monetary policy stance that BoZ continues to take is crucial for nurturing the ongoing
economic recovery from the Covid-19 pandemic woes. Further, the current price developments in Zambia
are sending a signal of a healing economy to the international investor community. Together with efforts
to restructure external debt, this development carries potential of attracting offshore portfolio flows (they
are important for enhancing FX supply in the domestic FX market) into Zambia. Over and above that, low
inflation in an economy is key for ensuring growth in the spending power of households especially in an
environment where job growth is on a sustainable path.
… Key Takeaways
Zambia's inflation has been subsiding for the 10th month in a row with the rate for May 2022 touch a 33-
month low of 10.2% after slowing down 130 bps from April's 11.5%. Key drivers of the continued
moderation in inflationary pressure have been the base effect, stable prices for inputs used in livestock
farming, a stronger local currency and slowed growth in money supply. With the foregoing expected to
continue playing out, our forecasts indicate that the climb down in inflation will remain ongoing even
beyond this year. Additional factors informing our inflation outlook include improved supply of foodstuffs
following the onset of the harvest period of agricultural produce, delay to implement the planned hike in
electricity tariffs as well as stability in crude oil prices on the international market. The positive effects of
the continued moderation in inflation in Zambia comprise inducing a reduction in the cost of credit at
financial institutions, enabling the central bank to continue keeping the monetary policy rate at low levels
for purposes of stimulating growth, signaling a healing economy to the international investor community
as well as enabling growth in household real incomes
(Visited 59 times, 1 visits today)