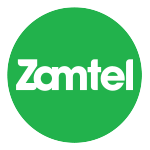 State-owned Telecoms Company, Zamtel, disclosed on 14th November 2017 that it intends to invest $300 million over the next three years to improve its network coverage. Few will remember that Minister of Transport and Telecommunications, Brian Mushimba, had made the announcement earlier the year regarding the multiple phased project. However, this reboot announcement comes at a time when the phase 2 of it is now in full swing. This investment in new infrastructure is expected to more than double its mobile phone subscribers over next the three years. Optimistic no doubt as the company is clearly adopting a strategy of achieving economies of scale with a social conscious.
Currently, Zambia has more than 12 million mobile phone service subscribers which is about 70 percent of the population, according to the latest government statistics. This number is anticipated to rise as government continues to pursue a social economic agenda through its all-inclusive mantra.
MTN, Bharti Airtel and Zamtel are the only mobile phone operators offering voice and data services in Zambia. A fourth mobile telecoms company, Mobile Broadband Zambia, trading as Vodafone Zambia, was issued with a license in 2016 but operations are restricted to data services. Although Zamtel is in fierce competitive waters, investment in capacity is necessary to play the telcoms game.
Zambia Information and Communications Technology (ZICTA) says MTN has more subscribers than any other mobile phone service provider. With 12 million subscribers in the country, MTN Zambia has the largest subscriber base with a market share of 48 percent which is 5.8 million subscribers followed by Airtel with 40 percent (4.4 million subscribers) and Zamtel with the least market share.
Zamtel holds only 18 per cent of the market share with 2.2 million subscribers. The company's subscriber numbers are expected to increase from about 2.2 million to 3 million by the end of next year, rising to 4 million by the end of 2019 and 5 million in 2020.
This initiative will be supported by an investment of $280 million by the government and about $20 million from the company's internal resources. In addition, China has agreed to lend Zambia the $280 million to improve the nation's telecommunications infrastructure and increase mobile phone usage over three years.
The infrastructure investment will increase the number of Zamtel's transmission sites to 1,793 over the next three years from the current 897 to improve the mobile voice and data services. The new sites which have already started going up will have inbuilt power solutions. The new sites which are part of the Zambian government Phase II tower project will make Zamtel become the telecoms firm with the widest coverage in the country.
According to Zamtel Acting Chief Technical Officer Freelance Bwalya, this investment will result in Zamtel's improved national mobile coverage footprint for all technologies such as 2G, 3G and 4G.
FiZ sees this as a positive development in the telecommunications industry which should spur other leading mobile phone operators such as MTN and Bharti Airtel to further increase investment in value addition of mobile technology. FiZ has also taken note that Zambia intends to invite bidders for a fourth mobile phone voice service provider with the tender closing on 24th November 2017 after approval of a new licensing regime. The Zamtel $300 million investment combined with a fourth mobile network operator will increase the mobile penetration rate currently at 70 percent bridging the digital divide and allow for a more competitive market.
(Visited 149 times, 1 visits today)